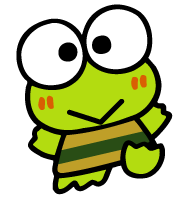 is a frog character made by Sanrio with large eyes and a V-shaped mouth. Keroppi loves adventure, and his bubbly personality makes him popular around Donut Pond. He has a brother called Koroppi and a sister called Pikki. Most often he is seen with his little snail friend Den Den, always tagging along a little behind. Keroppi is a fantastic swimmer and singer
Ad blocker interference detected!
Wikia is a free-to-use site that makes money from advertising. We have a modified experience for viewers using ad blockers

Wikia is not accessible if you've made further modifications. Remove the custom ad blocker rule(s) and the page will load as expected.