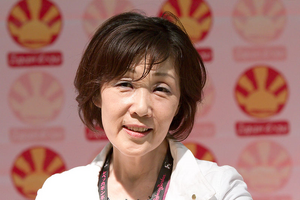 Yuko Shimizu (清水 侑子 Shimizu Yūko) (born 1 November 1946) is a Japanese designer who created Hello Kitty.
She was born in Chiba prefecture. After graduating from Musashino Art University, she released Hello Kitty at Sanrio in 1974.
Since retiring from Sanrio in 1976, she has been working as a freelance designer. The other characters she has created include Angel Cat Sugar and Rebecca Bonbon. She has also published some picture books.
Ad blocker interference detected!
Wikia is a free-to-use site that makes money from advertising. We have a modified experience for viewers using ad blockers

Wikia is not accessible if you've made further modifications. Remove the custom ad blocker rule(s) and the page will load as expected.